Fixing your iPhone Issues
I have come to the realization, albeit kind of skewed, that the relationship between iPhone users and their iPhones is more or less like that one of a mother and child. There is so much love and nurturing between the user and the gadget. I, in fact, get it! You will always nurture that which gives you all that you need, won't you?
In this age of data security, iPhones have bridged the gap that existed between data ownership and data security in smartphone ownership. It has been established that only a few people in Kenya can afford iPhones because of the high cost of purchasing. Nevertheless, this need has eventually been catered for by the availability of refurbished iPhones which can be purchased from authorized dealers.
We can all agree that all machines experience some down time. This, unfortunately, also applies to the lovely and invincible iPhone. However, do not be distraught ye iPhone owners as there is an easy solution for you. Before you consider calling the technician, you can choose to either do a soft reset or hard reset on your gadget on your own. A soft reset will help solve simple issues whereas a hard reset is meant to solve more complex issues. If your iPhone performs a peculiar behavior like rare screen unresponsiveness or apps launching on their own, then it is time to do a soft reset. The advantage of it is that there will be no data loss and your problem will be solved in a minute. We all want fast and affordable, right? Then, here you have it!
However, if you are experiencing worse issues, you are advised to do a hard reset on your iPhone. Below are some of the issues that will warrant a hard reset:
Malfunctioning with either iPhone error 9 or iPhone error 4013.
Virus infection
Unable to reboot
Frozen/Locked or slow in operation
When you want to transfer ownership
The downside of this is that all the data in the gadget will be lost. On the flipside, if your purpose is to change ownership or sell, this works best. Before going the hard-reset way, have a look at the following checklist:
Back up all your important files
Back up your user settings
Prepare a list of your most frequently used apps
Check for any app licenses
Remove iTunes authorization
Create a back up of essential snippets and plug-ins
How to do a hard reset on your iPhone:
Select "General" option by tapping on the settings icon in the home screen. Once you get to the "General" option, look for the "Reset" option to start the process.
Look for "Erase all content and settings" option. This will make the "Erase iPhone" option visible. You will further be prompted to confirm your decision.
Confirm the hard reset of your iPhone to factory settings. This will take a few minutes.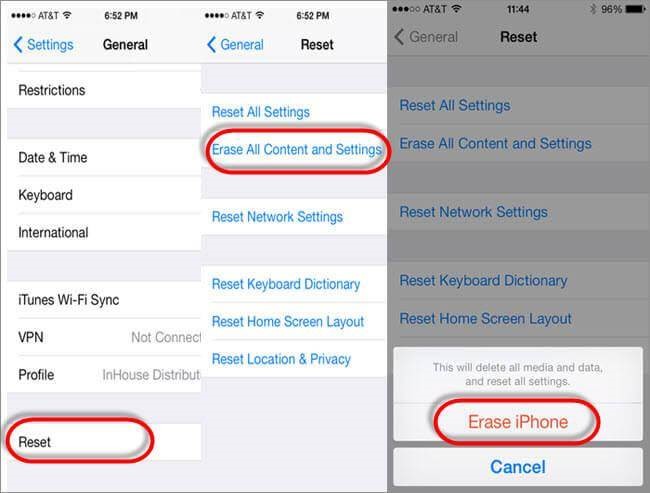 In case this doesn't work for you, you can visit WeFix Tech so that our iPhone Engineers can have a look at your phone. We offer free diagnostics and do it at your convenience by picking up your device, working on it and delivering it back to you. You can book in your device here ? http://bit.ly/WefixTechBook-in.
We are located at Ecobank Towers, Standard Street
Reach us using 0724000340