In these strange times of Covid-19, Smartphones pose a serious health risk. Coronavirus that causes the respiratory disease COVID-19 may be able to survive on some surfaces for up to nine days, studies have found, and that may include your beloved phone.
The Center for Disease Control and Prevention considers your phone a "high-touch surface," which could make it a carrier of the virus. According to a research done by Dscout firm, in a group of 94 people, the average person touched their phone over 2,600 times per day.
Your phone is the device you handle constantly and often press to the side of your face, which means that any bacteria, virus or other germ that makes its way onto your phone or case could easily transfer to your skin.
It's one thing to stop touching your face and it is another to stop touching the things that touch your face. The CDC now recommends that you clean and disinfect "frequently touched surfaces" daily, including phones, laptops, shared computers, keyboards, remote controls, and mouse.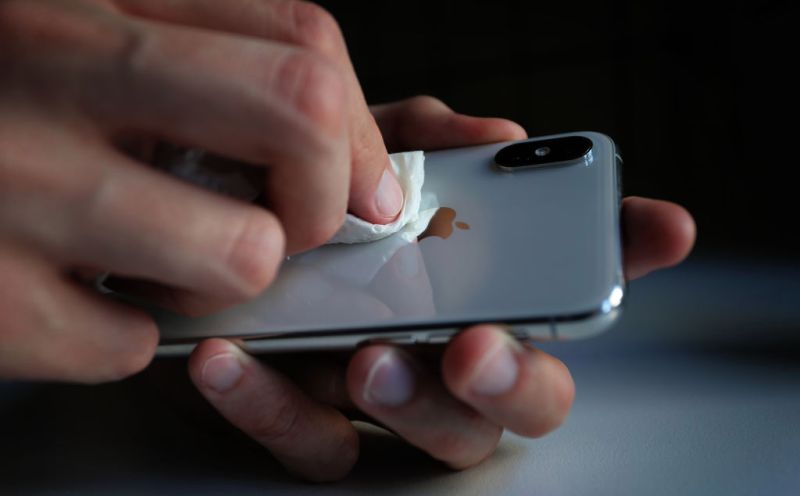 How to disinfect a phone or a tablet
Cleaning your phone thoroughly, is not as straightforward as it might seem. There are all sorts of delicate parts, openings, the screen and intricate protective cases.
Here are The Don'ts
Any sort of moisture can interfere with your phone's function. Apple recommends that people avoid using spray cleaners or heavy-duty products.
No bleach and aerosol sprays. You need your phone to work, even if you want it clean. If you don't consider this, you might have to visit a repair center.
This probably goes without saying — don't dunk your phone into any sort of liquid, anti-bacterial or otherwise. It won't end well for either of you. If it happens, just visit liquid damage repair experts.
Don't spray your device directly, and avoid getting drips of moisture in any openings, it may cause device liquid damage.
Never use paper fiber materials like a tissue or a paper towel, as they're more abrasive and can leave scratches which will require a new screen replacement.
You need to ensure that your device is not exposed to direct sunlight in the drying process, as the sun will damage the quality of the

Here are the Dos
Always unplug your devices (and remove batteries if possible) before you attempt to clean them.
Ensure that the phone is switched off to minimize possibility of liquid damage
Prep with a dry, soft cloth to remove debris and fingerprints. A gentle wipe with a product that has 70 percent isopropyl alcohol will do just fine. Apple recommends Clorox Disinfecting Wipes.
Wipe your device from the screen, down to the buttons, through and through. Wipe also the protective cases and protectors. Let these dry before reassembling.
Using UV light is also a good method claimed to kill 99.99% of germs and bacteria. However, there's no official word on whether UV light kills this particular strain of the Coronavirus

You can

buy a

digital cleaning kit which has a set of all necessary items to clean your device
You might also consider changing a bit of your behavior. AT&T suggests sharing of photos through texts, instead of passing the phone around, and using devices like headphones and technology like Bluetooth to keep your phone away from your face.
No matter your smartphone preference, the fact still remains that we are addicted to our mobile devices. Safe is always better than sorry.
WefixTech Cares